5 tags
This is the very very first draft of my new...
8 tags
A pinch and a punch (or the cruelties of January)
Today is the first day of February - the perfect time to fortify my New Year's Resolutions.  Or perhaps to edit them, as the glowing optimism of December has dimmed somewhat.  I am a big fan of resolve and resolving. If you read my blog last year about Woody Guthrie's wonderful New Year's Rulin's then you will already know this.  If you didn't, then read it now - not...
6 tags
Crumbs, I haven't written anything in quite some...
I could say that I've had too much on my plate, or that I've been away snowboarding (neither of which are true) or - more honestly - I could say that I have been wearing my procrastination pants.   This sort of thing  What's more, to find that excellent picture of enormous pants, I had to type 'massive knickers' into Google (a pretty loose application of 'had...
9 tags
6 tags
New Year's Rulin's
It is January 22nd, and my 2012 Resolutions (The Resolutions To End All Resolutions .. Look Out World! and so on and so forth) have already fallen by the wayside.  Oh woe. Luckily, I am a big believer in making my resolutions realistic and, more importantly, making them regularly.  January 1st.  Rosh Hashanah. Chinese New Year. The Academic Year.  Monday Mornings. … Tuesday Afternoons....
9 tags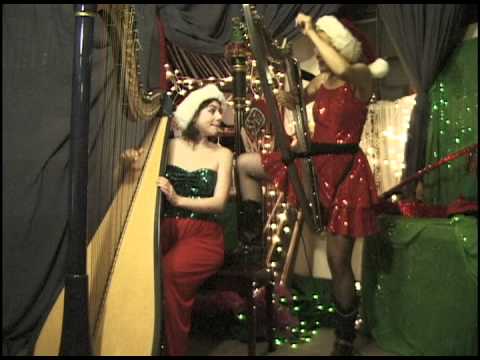 23 tags
Harpy Holidays*
*if you're wondering 'does Katya hate herself for writing 'Harpy Holidays?', then the answer is YES, desperately so, but what can I say? I'm a slave to the beat and a glutton for punishment.  Boom Boom.  Now back to business. ———————————————————- ...
A New Practice Plan (from your Friendly...
For those of you familiar with the (now mega famous) 10 Coin Practice Method, courtesy of my teacher, Deborah Henson-Conant, you will be THRILLED to learn that I have a new method to add to my practice artillery. It has been deeply gladdening to receive messages from musician friends (mainly but not exclusively, there have also been some musician STRANGERS) over the past couple of months, telling...
5 tags
7 tags
A Visit From The Loon Squad
Last week, on a particularly grey wednesday, I had a harp lesson at 4'o'clock and a gig I was going to at 8, so I decided to while away the harpless between-hours at the bookshop around the corner from Berklee, on Newbury Street.      After three years studying Literature (with a big L) at university, I am still overwhelmed and overjoyed to be aboard the good ship 'Choose...
A Battle of Wits
There are birds currently tweeting VERY LOUDLY outside my window.   To make matters worse, they are very much NOT in time with my metronome. At this point it is unclear who will back down first.   So now we play the waiting game….  (The metronome, relentless and bold, is giving this game a very 'Countdown' feel.  I like it a lot.) One Hour Later Both parties still going...
10 tags
Soon the duet will become a trio
This is the third, and final instalment of my blog triumvirate.  The first was about a man in Lederhosen.  The second was largely about my deeply uncool, but unabashed love of The Sound of Music.  Now, as we reach Blog III, Return of the Killer Blog, it's about my first concert in Arlington.   September 25th was, for me, a day of many firsts.   It was my first concert in Arlington, at the...
On Lederhosen and Being Lonely (or not)
So to bring you up to speed, in case you've just started reading, and think this is a blog about German fashion and its impact on the Emo sensibility, I can't emphasise enough how much it isn't that.   It is in fact a blog about moving to Boston, and learning to play jazz on the harp.  In disguise.   This is the second part of a blog trilogy.  A triblogy, if you will.  I...
Suspicious...
Today has been a busy day, and I've had a lot on the boil.  Not literally, because I don't have a stove here, but to say 'I've had a lot going on in my mind-microwave', pairing my cerebral and culinary states with greater accuracy, is not a phrase I want associated with my good name.  I thank you.   I am therefore going to break up today's main thoughts into...
1 tag
VFAQ
On my website (coming soon! WOW!) I have an FAQ section.  This is mainly for enquiries regarding weddings and events – you know the drill.  What I really want to put up, however, is a section of VFAQ.   VERY frequently asked questions (in case that wasn't obvious from the acronym) Oh, now it looks like WOW was an acronym.  It wasn't.  It was just the word 'wow'.   I feel like...
7 tags
A curious encounter
I was speaking with a man at the supermarket today.  He asked what I was doing here in America, and when I told him I was studying the harp, he said: 'The harp! YES! The cello of the opera!'  I have no idea what that means, (as I pointed out, VERY firmly)*  but I know that I like it. I think that's what I'll tell people from now on.   Next time someone asks me whether...
13 tags
Some words on the ever elusive art of practising
For those of you thinking 'When the #*$% is Katya going to write a blog about her new practice techniques?!' – you can now relax. I am working with some new practice methods, and I'm going to tell you all about them! [the crowd goes wild] Credit where credit's due, these are not my inventions, but have been given to me as practice gifts by my teacher, and harp-goddess Deborah Henson-Conant.    ...
10 tags
My 3-Month Jazz Intensive with Deborah...
 Here's the information on a need-to-know basis: My name is Katya, and I'm at the beginning of a 3 month Jazz-Intensive-Study-Program with Deborah Henson-Conant, the world's foremost electric harpist. She was described by the Boston Globe as 'A combination of Leonard Bernstein, Steven Tyler and Xena, the Warrior Princess.' This description is disturbingly accurate. A few years ago, I never...
12 tags
Learning to Ride a Bicycle as a Grown-Up
Before I came to Arlington, I was a non-cyclist.  Not that I never tried to learn.  I learnt as a child, and refuting the saying, like a shit elephant, I FORGOT.  Inexplicably, every boyfriend I have ever had has tried to teach me.  Tumbles were met with stomped-on helmets and fist shaking.  One such fool - generous and patient - tried to teach me how to turn by laying his jacket on the...